Investigating Antisense Oligonucleotide (ASO) Treatments for Neurodegenerative Diseases
Prof. Dr. Florian Heyd
We invite applications for a PhD position in the RNA Biochemistry Lab of Prof. Florian Heyd at the Freie Universität Berlin. The project will be at the intersection of basic and translational research for studying the potential of an antisense oligonucleotide (ASO)-based approach for treatment of neurodegenerative diseases such as Alzheimer's and Parkinson's.
Research Focus:
We study mechanisms of alternative splicing regulation, for example upon changes in (body) temperature. We recently showed that a poison exon in the RBM3 gene controls its expression in a temperature-dependent manner (Preussner et al., 2023, Embo Mol Med). Inclusion of this exon leads to mRNA destabilisation and decay, while exclusion results in a stabilised mRNA and protein production. Increased expression of the cold-induced protein RBM3 through therapeutic hypothermia has been shown to be remarkably neuroprotective. However, systemic cooling poses a health risk, strongly limiting its clinical application. Temperature-independent control of RBM3 expression therefore has huge therapeutic implications and could be beneficial in several neurodegenerative conditions. We identified a regulatory region within the RBM3 poison exon, which can be targeted by antisense oligonucleotides (ASOs). ASO-mediated manipulation of this region yields high RBM3 levels independent of cooling and thus holds the potential to promote neuroprotection in conditions ranging from acute brain injury to Alzheimer's disease.
In this project, we will study the efficacy and mechanisms of RBM3-inducing ASOs in several in vitro and in vivo models. This includes the design and characterization of the efficacy of RBM3-inducing ASOs, development and characterization of in vivo models and the use of RNA-Seq, e.g. in Crispr-edited cell lines, to investigate potential off-target effects.
Requirements:
A Master's degree in Biochemistry or a related field, very good grades and timely completion
Interest and expertise in molecular biology and neurodegenerative disease research
Proficiency in English, both spoken and written
Prior hands-on experience with cell culture models and molecular biology techniques, experience with in vivo models would be advantageous
Ability to work independently and in a multidisciplinary team
Strong analytical skills and attention to detail
Excellent oral and written communication skills
What we offer:
A collaborative academic environment
Access to state-of-the-art facilities and tools necessary for cutting-edge research
Mentorship from established researchers in the field
Opportunities for collaborative work, both within the institution and with external partners, also in translational settings
Candidates passionate about contributing to research on neurodegenerative diseases are encouraged to apply. This PhD project will provide a solid foundation for a promising academic or industry-oriented career.
For more information have a look at the website of the RNA Biochemistry group.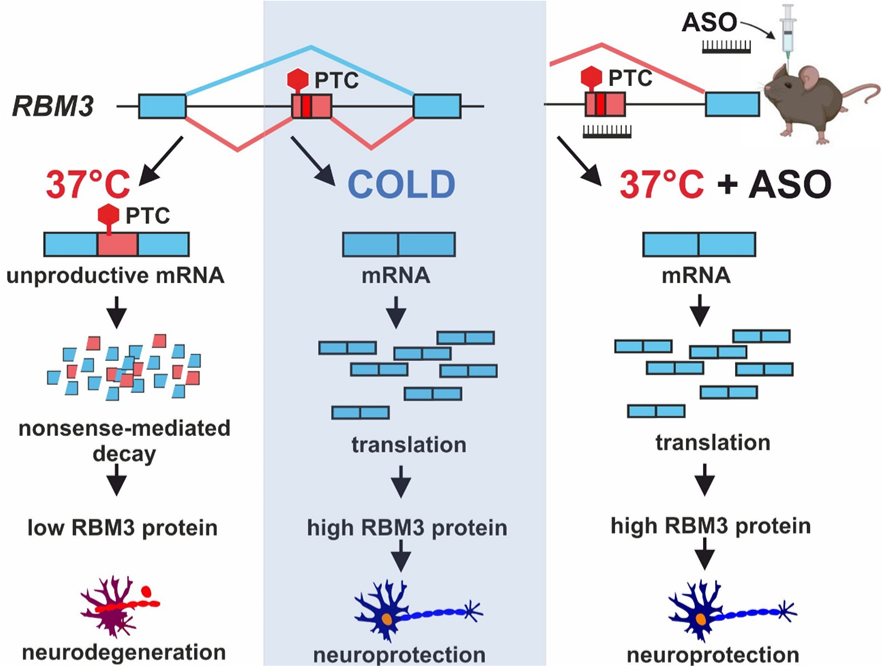 RBM3 ASOs: Hypothermia in a syringe