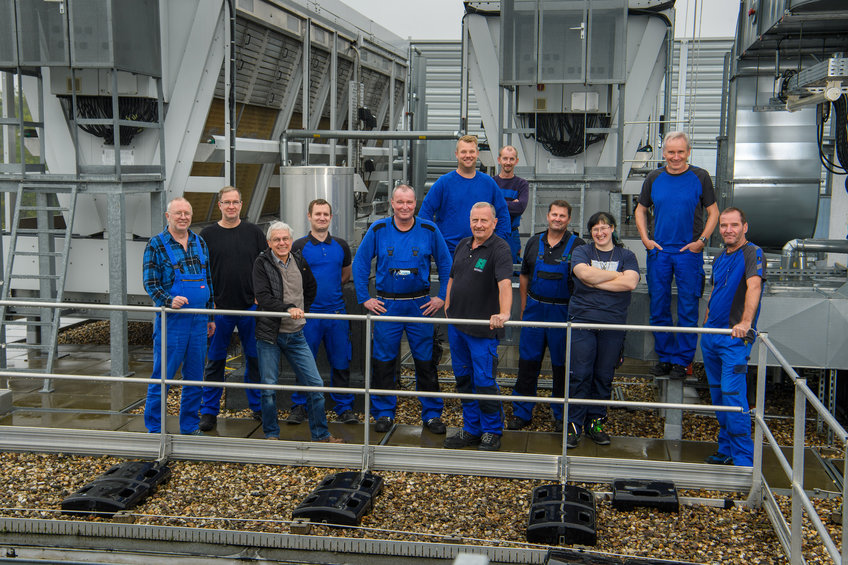 Technical Management & Workshops
The MPIMG was founded in 1964. In 1968, towers 1 and 2 and the administrative and workshop buildings at Ihnestrasse 73 in Berlin-Dahlem were built. After more than 40 years of use, a structural renovation is urgently required to meet current requirements for fire protection, occupational safety and energy efficiency. The plans foresee insulating the building shell, replacing the windows and doors and adjusting the floor layout to new laboratory use concepts. A fundamental reinstallation of technical facilities for electricity, cooling, water, gas and compressed air provision, ventilation equipment, and fire alarms is also urgently required. For this purpose, it is also necessary to adjust capacities to the sharply increased scientific requirements. The last few years have already been characterized by supply bottlenecks, technical failures, and burst pipes.
In 2003, the MPIMG received official approval from the management of the Max Planck Society to build tower 3 and renovate towers 1 and 2 from ground up one after the other directly afterwards. In 2007, the construction plan was submitted to the responsible "Joint Science Conference" (Gemeinsame Wisssenschaftskonferenz) of the Federal Government and Federal States for approval. At that time, all construction activities of the Max Planck Society were thoroughly reviewed by this same commission. The approval process for building tower 3 and renovating towers 1 and 2 was thus delayed by two years before approval was finally given in 2009. The construction of tower 3 started in April 2011. Completion and handover are planned for January 2013. While the plan has been to have tower 2 completed by December 2014 with the subsequent renovation of tower 1, this schedule is unfortunately now again in danger for reasons of budget problems. Tower 3 is being built as an "office building" for scientists working theoretically. The building will provide a new main entrance for the whole Institute and thus focusing attention on it. The ground floor will host an entrance hall and several seminar rooms for conferences and events. The upper floors shall be used by the Department of Computational Molecular Biology and other research groups working theoretically as well as the IT service group. In addition, a new server room will be created in tower 3. All construction works are carried out during full research operations, which in part lead to considerable restriction. It was e.g. necessary to empty rooms in tower 2 directly adjoining the construction work, accommodate groups in other parts of the building and relocate the cryo-electron microscope into the Fritz Haber Institute until the end of construction work.
The construction of tower 3 will solve the technical defects in the institute's cooling supply. New cables have also been laid and new transformers, switch panels and an emergency generator have been installed to ensure the institute has a secure continuous electricity supply. Nevertheless, due to upcoming supply problems in the infrastructure, the renovation of towers 1 and 2 is still of utmost importance.