This page provides an overview of the typical events of a PhD student's life here at the IMPRS-CBSC. If you have any questions about this, please don't hesitate to contact the PhD coordinator.
.
Your PhD curriculum
.
The majority of your time and work will be dedicated to your research project that you handle independently. To prepare you adequately for a career inside or outside academia as a PhD graduate, you are required to gain 24 credit points in the areas shown below.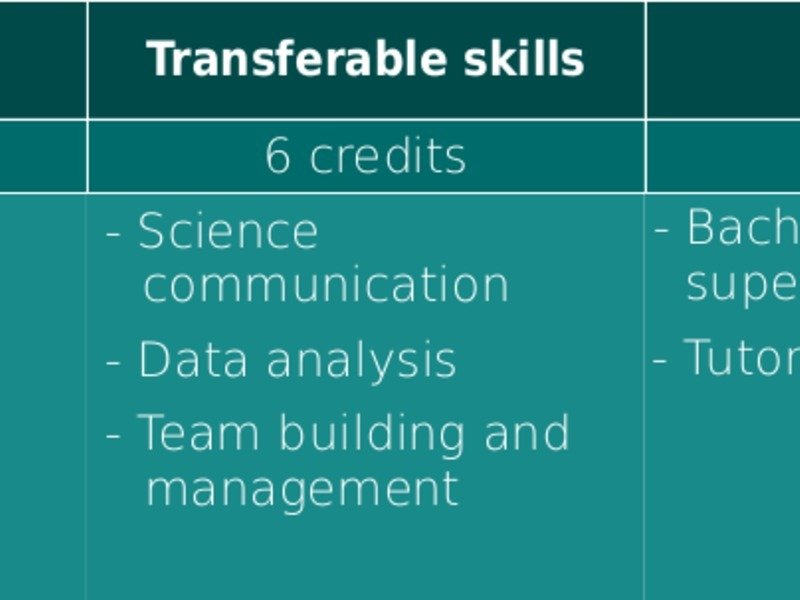 .
Scientific agenda: You and your supervisor will compose an individual curriculum depending on your needs; lectures are given at Freie Universität. You will also participate in the seminars of your research group. In addition, Summer schools are a good way to broaden your scientific horizon in an interactive setting. Every two years, the Otto Warburg Summer School is organised at the MPIMG.

Transferable skills (also known as professional or "soft" skills): We offer 4-5 workshops a year on a variety of topics in science communication, data analysis, team and self management. Students of the IMPRS-CBSC can also participate in the courses offered by the Dahlem Research School. These courses support your personal development and will benefit you in a wide range of careers.
Tutoring: In order to prepare you for a career in academia, tutoring skills are also essential and these can be gained by helping a professor teach a course or supervising bachelor or master theses.
.
Regular Events
.
This section gives you an overview about the regular events at the IMPRS-CBSC. For current information visit the section Events for Young Scientists or the events section of the institute.
The departments of the MPIMG take turns to organise a week-long introduction to their research (PhD Week) through a series of lectures, seminars and practical sessions. They are set in a familiar atmosphere with around 15 students from the whole institute. The event is most suitable for students in their first and second year and a great opportunity to get to know the institute outside of their respective groups.
The PhD students of IMPRS-CBSC and MPIMG go on retreat together once a year to learn about each other's research, to network and to gain new perspectives on their own work.
Every few months, all IMPRS-CBSC students gather for the IMPRS colloquium with scientific presentations from 3rd-year PhD students and an invited speaker from the faculty or outside. Each student will present at one of these colloquia near the end of their PhD.

The Otto Warburg Summer School (OWS) is the main event organized by the IMPRS.

At this annual research symposium students from all over the world come together with invited speakers to learn about cutting edge research in specific topics in the field of bioinformatics.

The meeting features lectures, research talks by invited speakers and students, poster and practical session spiced up by an informal social program; the MPI for Molecular Genetics in Berlin and its partner institute, the MPG-CAS PICP in Shanghai, take turns in hosting the event. .
.
Administration
.
Once you have accepted a place at the IMPRS-CBSC, the coordinator can help you with all administrative issues:

Registering as a PhD student at FU Berlin

Registering your residence

Residence permit / visa if necessary