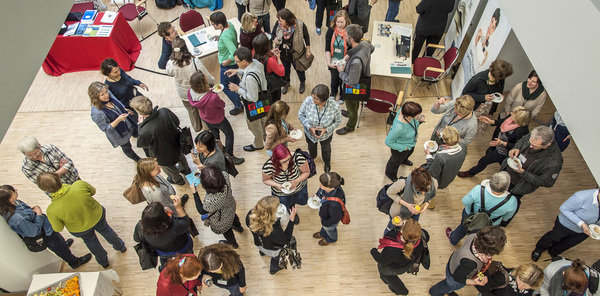 Career Development
Success is not just a matter of effort, qualification or achievements. Gender-specific prejudices and evaluations, outdated role assignment and opaque structures can present stumbling blocks in a female scientist's career. Various programs and initiatives of the Max Planck Society are designed to work against these factors and help to stop the drastic underrepresentation of women in leading scientific positions.
Programs for female scientists
The mentoring program Minerva-FemmeNet is a network for female scientists of all qualification levels. Women from undergraduate level up to highly qualified research group leader can find support and advice through an individual career mentoring relationship. Details under Minerva-FemmeNet.
The initiative SignUp! is aimed at female postdocs. Through a module-based training programme they are prepared for scientific leadership positions. Participation helps these scientists to strengthen their network and use it to orient themselves, get motivated and find support in their career development.
Laboratory-based PhD students of the Max Planck Society that are mothers can apply for support through the Christiane Nüsslein-Volhard-Stiftung. The stipend is intended to reduce the difficulty of managing a household, child care and a scientific career simultaneously.
Women are still strongly underrepresented in leading positions. The Minerva-Program of the Max Planck Society improves working conditions for female scientists. A rigorous externally evaluated selection process finds excellent junior scientists that are funded for five years in which they can build up an independent research group.
Another player in the area of career development and reconciliation of work and family life is the newly founded Career Steps Network. It offers scientists the opportunity to benefit from personal exchange with colleagues and best practise cases from other institutes. Through information events women in science can report on their needs and problems and thus shape the direction of career development initiatives in the Max Planck Society. The first events were held in spring 2017 at the Career Steps Opportunities Roadshow.
Voluntary Commitment of the Max Planck Society
The MPG has commited itself to increasing the proportion of female scientists at all career levels. Until 2017 the aim was to increase the proportion of female scientists in W2 and W3 positions and the salary levels E13 to E15 of the public sector wage agreement by one percent a year for five years.
The MPG is also a member of Initiative "Chefsache", a network of institutions that are involved in furthering equal opportunities that awards best practice examples. The aim is to create an equal balance of women and men in leadership positions.
The Permanent Presidential Committee "Chances" has been established to embed the issue of equal opportunities at the management level of the MPG. It is chaired by the Vice President of the Max Planck Society, Prof. Angela Friederici.