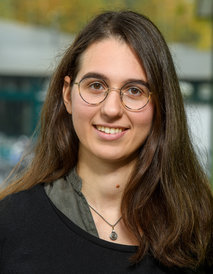 Foto: David Ausserhofer
PhD student
IMPRS-BAC
Otto-Warburg-Laboratorien
Schulz lab
Member of the International Max Planck Research School for Biology and Computation (IMPRS-BAC)
Interests
In my PhD project, I am investigating epigenetic memory mechanisms using epigenome engineering and synthetic biology. I am developing a high-throughput assay that profiles the chromatin state and the transcriptional output of regulatory elements, to answer how epigenetic memory arises and how it is maintained.
Curriculum vitae
2021 – Present: PhD student, Edda Schulz System Epigenetics Lab, Max Planck Institute for Molecular Genetics, Berlin, Germany.
2020 - 2021: Affiliate Member, Cancer Program, Broad Institute of MIT and Harvard, Boston, USA.
2019 - 2021: Research assistant, Ioannis Vlachos Non-coding Research Lab, Harvard Medical School, BIDMC, Boston, USA.
2015 - 2020: Diploma of Chemical Engineering (Integrated MSc), National Technical University of Athens, Greece.