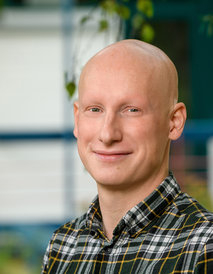 Foto: David Ausserhofer
Michael Robson, PhD
Postdoc
FG Entwicklung & Krankheit
Mundlos Lab
Michael Robson is a Henry Wellcome Postdoctoral Fellow focused on understanding the mechanisms governing complex gene expression. After studying Molecular Cell Biology at Imperial College London, Mike started a Wellcome Trust-funded PhD with Eric Schirmer at the University of Edinburgh in 2011. During this time he studied the important role of tissue-specific nuclear envelope proteins in regulating transcription during differentiation. In 2016 Mike began a postdoc with Stefan Mundlos at the MPIMG and was awarded both the EMBO long term and Henry Wellcome Fellowships. His current work aims to create a toolkit to examine and genetically dissect the function and evolution of 3D genome organisation in controlling gene expression in single cells during mouse development in vivo.
Curriculum Vitae
Since 2017: Henry Wellcome Postdoctoral Fellow with Stefan Mundlos, MPIMG
2016-2017: EMBO LTF Postdoctoral Fellow with Stefan Mundlos, MPIMG
2011-2016: Wellcome Trust PhD in with Eric Schirmer, University of Edinburgh
2010-2011: Wellcome Trust Msc in Molecular Cell Biology, University of Edinburgh
2007-2010: Bachelor in Biochemistry, Imperial College London
Selected Publications
Robson, M.I., Ringel, A.R., and Mundlos, S. (2019). Regulatory Landscaping: How Enhancer-Promoter Communication Is Sculpted in 3D. Mol Cell 74, 1110-1122. PMID: 31226276
Robson, M.I., and Mundlos, S. (2019). Jumping retroviruses nudge TADs apart. Nat Genet 51, 1304-1305. PMID: 31427790
Robson, M. I.*, de las Heras, J. I., Czapiewski, R., Sivakumar, A., Kerr, A. R. W. and Schirmer, E. C. (2017) Constrained release of lamina-associated enhancers and genes from the nuclear envelope during T-cell activation facilitates their association in chromosome compartments. Genome Research. PMID: 28424353
Robson, M. I.*, de las Heras, J. I., Czapiewski, R., Lê Thành, P., Booth, D. G., Kelly, D. A., Webb, S., Kerr, A. R. W. and Schirmer, E. C. (2016) Tissue-Specific Gene Repositioning by Muscle Nuclear Membrane Proteins Enhances Repression of Critical Developmental Genes during Myogenesis. Mol. Cell, 62, 834–847. PMID: 27264872.