Research to serve the people
The Max Planck Institute for Molecular Genetics congratulates Karin Moelling to the Order of Merit of the Federal Republic of Germany
On January 22, 2018, the virologist Karin Moelling has received the Officer's Cross (Verdienstkreuz 1. Klasse) of the Order of Merit of the Federal Republic of Germany. The honor has been awarded to her by Michael Müller, Governing Mayor of Berlin, on behalf of the Federal President.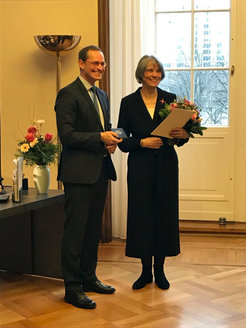 "In the course of her scientific career, Karin Moelling has made several fundamental discoveries," explains Bernhard Herrmann, Managing Director of the Max Planck Institute for Molecular Genetics (MPIMG). "She has isolated the first oncogenes from retroviruses and has discovered and characterized the so-called Raf kinase while working at the MPIMG. Her results contributed to the foundations for many research projects still performed at the institute today. We are very pleased that the achievements Karin Moelling has made in and for science are also recognized and appreciated outside the scientific community."
"For Karin Moelling, science and research as her personal life-task are always a service to people," says Michael Müller, Governing Mayor of Berlin. "In virology, her own field of interest, she has pursued the goal to better understand diseases such as cancer and AIDS, and to develop new therapeutic approaches based on her findings over decades. This orientation towards humans is also reflected in her efforts to communicate complex scientific facts to the general public."
Moelling worked at the MPIMG from 1976 to 1993, starting as head of an Independent Research Group, followed by a permanent position as Group Leader in the department of Heinz Schuster. In those days, her main interest laid on the molecular mechanisms of cancer by viral oncogenes. She isolated Myc as the first nuclear oncogene and characterized it as a transcription factor. The discovery and characterization of Raf kinase, which plays a pivotal role in cell signaling and is now an important target for cancer therapy, is also one of her achievements.
In 1993, Moelling has been appointed as Professor of Virology and Director of the Institute of Medical Virology at the University of Zurich, Switzerland. During this time, she has significantly advanced research on cancer and AIDS. She has conducted clinical trials for vaccination with DNA plasmids against cancer and has developed a novel anti-AIDS strategy based on retroviral ribonuclease H. Together with her group, she has developed artificial hairpin looped DNA pieces that are converted into hybrids and subsequently cut by the ribonuclease H. In the animal model, these DNA pieces could prevent tumors and inhibit virus amplification. Already in her PhD work, Moelling identified the enzyme ribonuclease H in retroviruses, today it is described ubiquitously.
Even after her retirement in 2008, Karin Moelling remained associated with the University of Zurich and the Max Planck Institute for Molecular Genetics as a visiting scholar. Only recently, she has published a book on viruses, in which, in contrast to the usual presentation, she has put focus on "viruses that do not cause disease, these are most of them!" In a new project, she wants to promote the clinical application of viruses that attack bacteria, the so-called phages. This, too, is an area she has previously worked on at the MPIMG.
The Order of Merit is awarded to Germans as well as foreigners for achievements in the political, economic, social or intellectual realm and for all kinds of outstanding services to the nation. It is the only honor that may be awarded in all fields of endeavor. It is the highest award the Federal Republic of Germany can grant to individuals for services to the nation.
[pm]