Transferable Skills Course: Public Speaking and Stage Presence
Fully booked

Beginn:

13.09.2023

Ende:

14.09.2023

Vortragende(r):

Lenka Wolf

Ort:

Max-Planck-Institut für molekulare Genetik

Raum:

Seminar room 1

Gastgeber:

Anne-Dominique Gindrat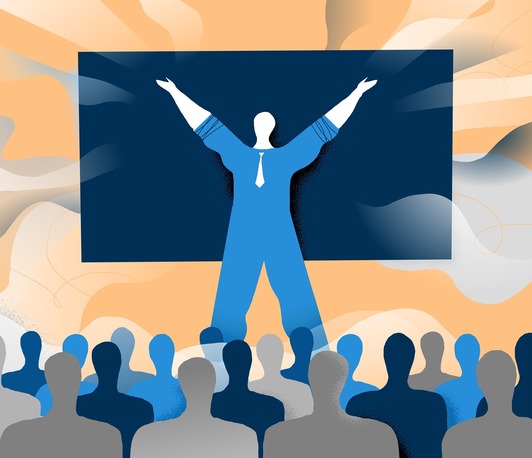 Theatre-based workshop to present with impact and charisma


Idea & Goal
How to succeed at presentations with engaging body language, voice tone and story-telling that underlines your key message?
How can you deliver a short, well-structured presentation and entertain your audience?
With this theatre-based workshop, you will enhance your interaction and presentation skills. Each participant will present to the group and receive constructive feedback. Public speaking is a key skill, whatever your profession or faculty might be, and a path to recognition and success. Stage coaching can help you reach the next level in one's professional career in academia.


Content
· Physical play, vocal tools and emotion-based exercises to avoid stage-fright
· Exercises in order to become more playful and confident in front of an audience
· Exercises to develop space and time awareness, p.e. strategical breaks
· Impromptu speeches to discover and increase confidence, control and charisma when presenting
· Improvisation tools to develop imagination, communication, awareness abilities
· Story-telling and dialogue techniques to optimize key messages
· 5-Steps to structure your academic ideas in a clear, convincing way
IMPORTANT: Participants need to bring a keyword concept for their presentation in the form of slides (on their laptop) along with a short structure with keywords for the introduction, main part, and conclusion.


Approach
Theatre techniques, individual & group improvisation exercises, story-telling, group discussion and reflection, feedback from group and trainer


Trainer
Lenka Wolf, M.A. is a professional facilitator, theatre pedagogue, cultural anthropologist and native in two, fluent in four languages with a long-standing experience in both the field of education from school to postgraduate and corporate companies and organizations in Europe. She runs workshops for Presentation and Stage presence for the Goethe University Frankfurt since 2018.


Dates
13th and 14th September 2023 – 9:00-13:00 and 13:00-16:00 hs.
Please email gindrat@molgen.mpg.de to register for this course. Women will have the priority since this workshop is paid by equal opportunity funds.




Before signing up for this workshop, please make sure that you can attend all the dates and write them in your calendar. If you do not show up or cancel at very short notice, other interested people will not be able to participate.