Cedric Feschotte: Transposable elements as catalysts of regulatory evolution
Dahlem Colloquium
Date:

Mar 30, 2022

Time:

11:00 AM - 11:00 AM (Local Time Germany)

Speaker:

Cedric Feschotte

Professor in the Department of Molecular Biology and Genetics at the Cornell University, Ithaca, NY

Location:

online

Host:

Juliane Glaser

Contact:

dc-register@molgen.mpg.de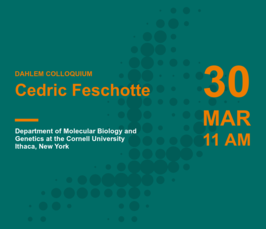 Cedric Feschotte is a Professor in the Department of Molecular Biology and Genetics at the Cornell University, Ithaca, NY. He has 20 years of experience working on transposable elements. The Feschotte lab has made major discoveries for this field, studying transposable elements with an evolutionary point of view in various vertebrate models. You can find more details on their recent and previous work here:
https://blogs.cornell.edu/feschottelab/pub-record/
Get in touch via email to get a zoom link for the lecture.