Joining forces for the science metropolis
Berlin's non-university research institutions are joining forces
To strengthen Berlin as an international science hub, the capital's non-university research institutions have come together to form Berlin Research 50 (BR 50). Together, they want to develop research strategies and foster dialogue between science, politics and society. The initiative will also facilitate and strengthen cooperation with Berlin's universities.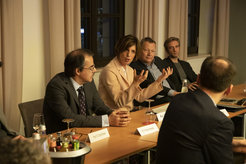 The new network includes almost all non-university institutes and centers in the Berlin area. It is intended to facilitate coordination between non-university research institutions and provide a central point of contact for cooperation with Berlin universities and exchange with society and politics. Similar to the Berlin University Alliance (BUA), the association of Freie Universität Berlin, Humboldt-Universität zu Berlin, Technische Universität Berlin and Charité – Universitätsmedizin Berlin, BR 50 will provide a platform for dialogue between the participating institutions.

The alliance includes representatives from all scientific fields. At the inaugural meeting on February 18 in the Max Liebermann House at the Brandenburg Gate, founding coordinators were chosen for the four sections: Professor Thomas Sommer for Section 1 (Life Sciences), Professor Jutta Allmendinger for Section 2 (Social Sciences and Humanities), Professor Ulrich Panne for Section 3 (Natural Sciences) and Professor Michael Hintermüller for Section 4 (Technical and Engineering Sciences).

"With their excellent research, the extramural institutions are already making an indispensable contribution to the profiling of Berlin as a leading international science location," said Thomas Sommer, founding coordinator of the Section for Life Sciences and Scientific Director of the Max Delbrück Center for Molecular Medicine in the Helmholtz Association (MDC). "With BR 50, we are now joining forces to help Berlin flourish as a research hub."

Ulrich Panne, founding coordinator of the Section for Natural Sciences and President of the Federal Institute for Materials Research and Testing (BAM), adds: "The dialogue between science, society and politics is becoming increasingly important, and BR 50 will facilitate this by building many important bridges between Berlin's research institutions."

Jutta Allmendinger, founding coordinator of the Section for Social Sciences and Humanities and President of the Social Science Research Center Berlin (WZB), expects that BR 50 will strengthen cooperation with Berlin's universities: "The large number and diversity of the city's non-university research institutions is clearly one of Berlin's strengths," she says. "Our new association offers a central dialogue partner for Berlin's universities, enabling us to initiate cutting-edge research projects together."

According to Michael Hintermüller, founding coordinator of the Section for Technical and Engineering Sciences, director of the Weierstrass Institute for Applied Analysis and Stochastics and spokesman of the board of directors of the Forschungsverbund Berlin, one of the main incentives for founding BR 50 is to address the great challenges that humanity is currently facing: "With the new association, Berlin's research institutions can better use their synergies to jointly develop solutions for the problems that lie ahead."

"We are looking forward to further expanding our cooperation with the Berlin research institutions," says Alexander Meissner, founding member of BR 50 and Managing Director at the Max Planck Institute for Molecular Genetics. "Exchange, especially beyond the boundaries of the own discipline, offers new perspectives and will further increase the radiance of Berlin's research."

At the inaugural meeting, 41 of Berlin's non-university research institutions came together, including institutes of the major science organisations Leibniz Association, Max Planck Society, Helmholtz Association and Fraunhofer-Gesellschaft, as well as the federal government research institutes and the Prussian Cultural Heritage Foundation.