Alexander Meissner is new member of EMBO
Director of the Max Planck Institute for Molecular Genetics in Berlin has been elected as member of the international research organization
Alexander Meissner, director at the Max Planck Institute for Molecular Genetics (MPIMG) in Berlin and head of the Department of Genome Regulation, has been elected as member of the European Organization for Molecular Biology (EMBO). Meissner, who came to Berlin from the US about one year ago, pursues two fundamental, but exceedingly complex, questions: how do cellular states change identities and what are the underlying epigenetic principles that guide these stable transitions? In 2018, 62 outstanding scientists working in 24 different countries have been elected to EMBO membership.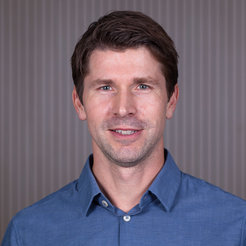 "I am very honored to have been selected as a member of such an excellent research organization," Meissner says. "The EMBO members form a network of outstanding specialists in all areas of molecular biology and the mutual exchange is highly stimulating and beneficial to our scientific work."
Meissner is particularly interested in the role of epigenetic regulation, which covers mechanisms that can regulate the "reading" (transcription) of genes without changing the base sequence of the DNA. Together with his team of experimental and computational biologists, he studies, which factors cause multipotent stem cells that can develop into almost all tissues of the organism, to differentiate into highly specialized cells from which only cells of the same kind can emerge.
Alexander Meissner is the fourth representative of the MPIMG, who has been appointed EMBO member. Furthermore, Bernhard Herrmann, director at the MPIMG and head of the Department of Development Genetics, Stefan Mundlos, external scientific member of the MPG and head of the research group Development & Disease, and Hans Lehrach, emeritus director of the MPIMG, are also members of the prestigious international organization.
Background information: Alexander Meissner was born and brought up in Berlin. He studied Medical Biotechnology at the Technical University of Berlin before starting his PhD studies with Rudolf Jaenisch at the Whitehead Institute/MIT. After completing the PhD, Meissner spent a year and a half working with Rudolf Jaenisch and Eric Lander before starting his own lab in 2008 in the Department of Stem Cell and Regenerative Biology at Harvard University and as an associate member of the Broad Institute. In 2016 he accepted a position as Director and Head of the Department of Genome Regulation at the Max Planck Institute for Molecular Genetics, where he is working in principal employment since 2017.
About EMBO: EMBO is an organization of more than 1800 leading researchers that promotes excellence in the life sciences. The major goals of the organization are to support talented researchers at all stages of their careers, stimulate the exchange of scientific information, and help build a European research environment where scientists can achieve their best work. For more information, see www.embo.org