Dr. Sascha Sauer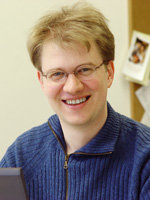 Dr. Sascha Sauer
Former Principal Investigator
Sascha Sauer left the MPIMG in 2016 and heads the Scientific Genomics Platform at the Berlin Institute for Medical Systems Biology of the MDC in Berlin-Buch now.
Sascha Sauer studied Biochemistry at the Free University Berlin. After having finished his PhD at the Centre National de Genotypage in Paris in 2001, he has worked in the department of Hans Lehrach at the Max-Planck-Institute for Molecular Genetics. During this time he has developed a number of mass spectrometric assays for DNA analysis, bacterial identification and small molecule detection. These techniques are now widely used for different applications.
In 2008, Sascha Sauer established the independent "Nutrigenomics and Gene Regulation" research group at the Max-Planck-Institute for Molecular Genetics.
The focus of his current research lies i) in the analysis of the interplay of small (dietary) molecules with cellular and physiological processes, ii) the development of nutraceuticals and health-benefial natural products and methods for disease monitoring, iii) as well as in studying the mechanisms of cellular stress response and plasticity by using single cell analyses and computational biology methods. All these efforts shall eventually lead to fundamental insights and contribute to the development of concrete concepts for preventing age-related diseases or for inhibiting in general age-related health decline.