Research concept
Many physiological processes are controlled by complex molecular mechanisms. This includes daily environmental factors such as nutrition. In order to prevent health decline and prolong the quality of life we aim to identify causal connections between diet and disease, to increase the acceptance of nutritional intervention for the prevention of disease processes. Functional food and nutraceuticals, i.e. extracts or compounds of edible biomaterials with validated beneficial effects on human health are attracting more and more scientific and public interest. Furthermore, highly potent natural products may be useful to develop pharmaceutical products.
As an externally founded research group in 2008 at the Max Planck Institute for Molecular Genetics, our research group has been exploring health implications of the interaction between nutrition and genomics or the so-called "nutrigenomics". The regulation of genes plays an important role in various molecular processes of metabolic disorders such as insulin resistance or atherosclerosis. One emphasis of our research lies in analysing genome-wide the modulation of gene expression in cellular processes, for example during adipocyte or macrophage cell differentiation. These processes can be significantly influenced through the interaction between genes and naturally occurring compounds.
Consequently, as the second emphasis of our research group, we study the capability and mechanisms of natural products to interact with genes and gene products. In order to identify active natural products, we screened and systematically characterized natural substances derived from small molecule libraries that featured large structural variability.
Scientific methods and achievements / findings
1. Scientific/research achievements
Given worldwide increases in the incidence of metabolic diseases such as obesity, type 2 diabetes or atherosclerosis, alternative approaches for preventing and treating these disorders are required. The nuclear receptors PPARγ (peroxisome proliferator-activated receptor gamma) and liver x receptor alpha (LXRα) play central roles in metabolism; however, current drugs or drug candidates targeting these receptors are characterised by undesirable side effects.
Amorfrutins and LXR ligands
We discovered a family of natural products that bind to and activate specifically PPARγ. These compounds, the amorfrutins, are derived from edible parts of two legumes, Glycyrrhiza foetida and Amorpha fruticosa. The natural amorfrutins are structurally new powerful anti-diabetics with unprecedented effects for a dietary molecule.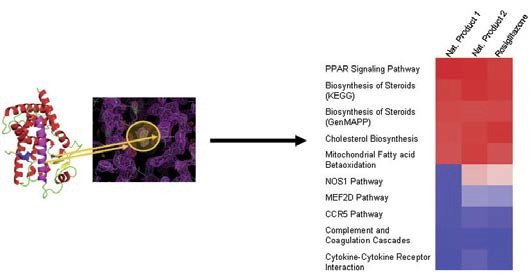 Zoom Image
Structure-function relationship of novel selective nuclear receptor agonists
Structure-function relationship of novel selective nuclear receptor agonists
Moreover, we identified a new LXRα ligand, which is subtypespecific in  contrast  to  any  other known LXR ligand. This specific LXRα ligand is in particular active in lipid-loaded foam cells that are involved atherosclerotic plaque formation. This LXR ligand will be explored as a chemical tool as well as for potential drugability.
Our results showed that selective nuclear receptor activation by (diet-derived) ligands constitutes a promising approach to combat metabolic disease.
Transcriptional networks of foam cells
Atherosclerosis is an important global health problem and a leading cause of cardiovascular disease. Adaptation of macrophages to physiological stimuli as lipid overload or elevated levels of cholesterol requires dynamic regulatory molecular networks. We deciphered the LXRα-dependent gene-regulatory architecture of atherosclerotic foam cells, as well as key networks triggered by LXRα-modulation for treating efficiently atherosclerosis, by using integrated genome-wide analysis of LXR-alpha. Functional analyses integrating genetic variation disease association data revealed cholesterol induced disease gene expression and suggest avenues for treating systematically foam cell development and atherosclerotic plaques, for example via specific LXRα-activation of the APOC-APOE gene cluster.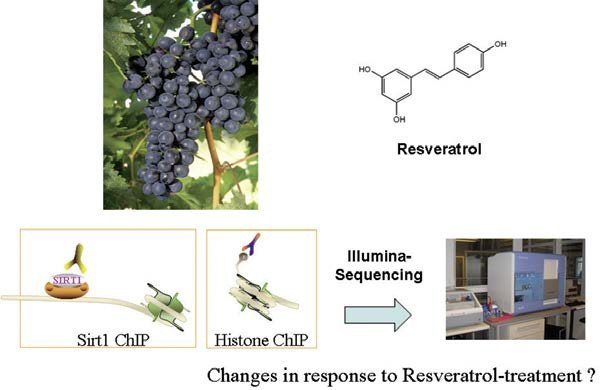 Zoom Image
Mechanisms of Sirtuin 1 (SIRT1) activation: Chromatin dynamics triggered by natural products
Mechanisms of Sirtuin 1 (SIRT1) activation: Chromatin dynamics triggered by natural products
Gene regulation during mild stress response
The natural product resveratrol is a widely known molecule because of its reported health-beneficial and striking anti-aging effects. However, the mechanism of action of resveratrol remained essentially elusive. We showed that the beneficial cellular effects of resveratrol can be explained by its chemical degradation leading to reactive oxygen species, subsequent genome-wide remodelling of chromatin and gene regulation of interconnected pathways of cellular defence, thermogenesis, and modulated metabolic profiles. A concerted action of cellular defence mechanisms including genome remodelling may explain mechanistically reported aspects of resveratrol on the cellular and physiological level. Based on our data, we propose a hormesis model of the action of resveratrol. In particular this line of research led to intensified collaboration with the nutritional and cosmetics industry
Proteomics
We further developed a bunch of proteomics and compound screening pipelines to decipher entire proteome-wide expression changes and post translational modifications, as well as discover new active natural products from diverse compound libraries.
Using SILAC (stable isotope labeling by amino acids in cell culture), or alternatively dimethyl labelling, we detected in treated diabetic mice more than 5000 proteins and including more than 9000 individual phosphorylation sites. Thereby we discovered molecular evidence for physiologically important (side) effects such as heart failure. We furthermore apply mass spectrometry for protein characterisation to detect bacteria and bacteria-host interaction to understand important interactions as well as inflammatory processes that can be influenced by nutritional intervention. Moreover, we studied on the proteome-wide level protein networks of cell-cell communication, for example between fat cells and macrophages, to get mechanistic insights in the metabolic adaptation of these key cells, which are involved in the development of insulin resistance.
Furthermore, the group has set up the facilities and protocols required for studying systematically gene-regulation processes influenced by histone-modifying enzymes For example, we have developed a novel functional high-throughput mass spectrometry assay to screen and characterise natural products interacting with protein-modifying enzymes such as deacetylases such as sirtuin 1 (Sirt1) or acetyl transferases like p300.