NLR immune receptor signaling and cell death execution in plant innate immunity
Prof. Dr. Marcel Wiermer

Research efforts in our group are directed towards understanding how plants defend themselves against infection by pathogenic microbes such as bacteria, fungi and oomycetes. One focus of our team is to understand the molecular mechanisms that regulate the spatial communication between the cytoplasm and the nucleus in cellular immunity of the model plant species Arabidopsis thaliana. We employ a broad spectrum of biochemical, genetic and genomic, cell biological and molecular approaches to study the transport of immune-regulatory proteins and RNAs across the nuclear compartment boundary through nuclear pore complexes, as well as transport-independent functions of nuclear pore complex proteins in defense gene expression and regulation.
This research project will characterize a network of genetically linked and interacting NLR immune receptors with regard to its function in plant defense signal transduction, transcriptional reprogramming and the induction of host cell death at the biochemical, molecular and cell biological level. The spatio-temporal localization and interaction dynamics of NLR proteins at the endoplasmic reticulum, in the cytoplasm and the nucleus will be analyzed by high resolution life cell imaging. Available genome data will be used to investigate the phylogeny of the NLR network. The project also aims to identify novel NLR interaction partners and complex components using proximity labeling and biochemical purification approaches. Interactors will be characterized at the molecular level with regard to their function in plant immunity.
We are looking for highly motivated candidates who are enthusiastic about the research field and have a strong experimental background in molecular plant sciences, biochemistry, cell biology and/or molecular genetics. Knowledge of molecular plant-microbe interactions, experience in handling plant pathogenic microorganisms, and experience in mass spectrometry and confocal microscopy are of advantage.
For more information, please contact Marcel Wiermer (m.wiermer@fu-berlin.de / +49 (0)30-838-71054).
Freie Universität Berlin
Department of Biology, Chemistry, Pharmacy
Institute of Biology
Biochemistry of Plant-Microbe Interactions
Königin-Luise-Str. 12-16
14195 Berlin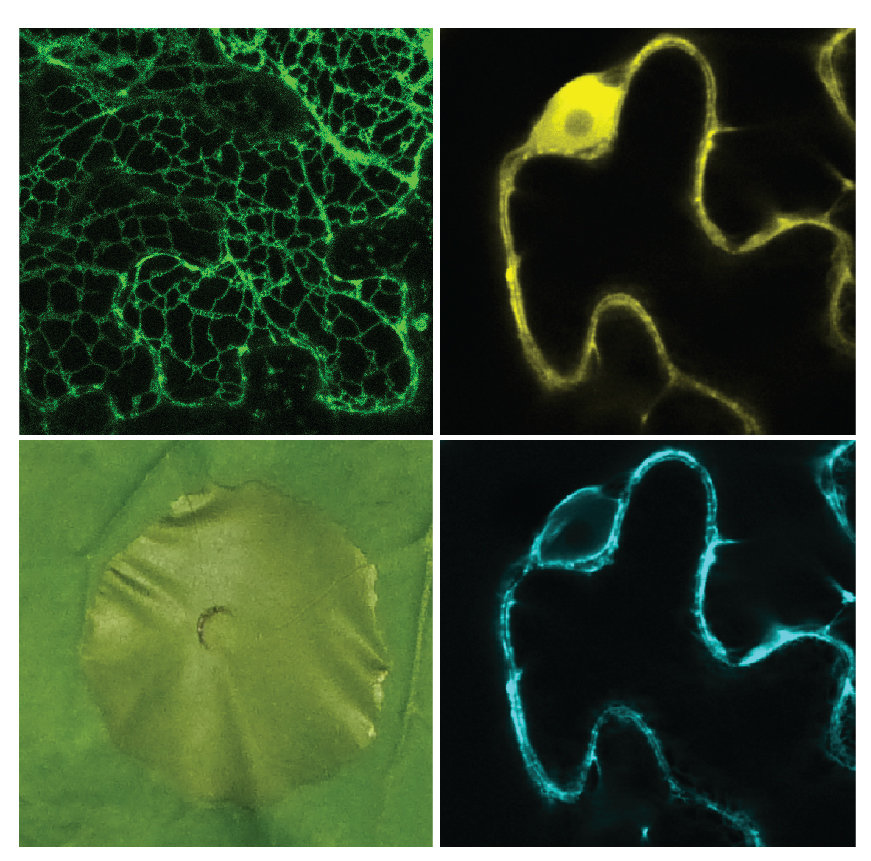 NLR protein subcellular localization and induction of cell death upon Agrobacterium-mediated transient expression in Nicotiana benthamiana leaves.