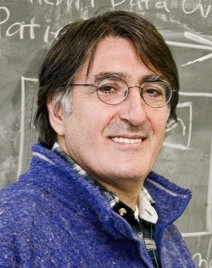 Hans Lehrach studied Chemistry at the University of Vienna and obtained his Ph.D. at the Max Planck Institute for Experimental Medicine and the Max Planck Institute for Biophysical Chemistry in 1974. As postdoctoral fellow at Harvard University, Cambridge (1974-1978) his research focused on RNA analysis and he carried out one of the first cDNA cloning experiments. As group leader at the EMBL, Heidelberg (1978-1987), he was among the first who initiated positional cloning experiments in mouse (Brachyury) and man (Huntington's disease, Cystic Fibrosis etc), he also contributed to the development of widely used research tools (e.g. the EMBL vector system together with Noreen Murray) and was one of the first who initiated the human genome project. Following this, he moved to the Imperial Cancer Research Fund, London (1987-1994) as head of Genome Analysis Department, focusing on the development of new structural and functional genome analysis technologies (e.g. development of the first array robotics in 1987). In 1994, he returned to Germany and since then he has been Director and Scientific Member at the Max Planck Institute for Molecular Genetics, with a focus on genetics, genomics and systems biology.
His scientific achievements are numerous, among those are the early contribution to the cloning of collagen cDNA, early positional cloning work (Chorea Huntington gene etc.), key work on technologies such as protein microarrays, protein interactome analysis, yeast artificial chromosomes and RNAseq, as well as the involvement in several genome sequencing projects, such as the human, rat, and Schizosaccharomyces Pombe. During the last decade, a major focus of his work has been the development of a new, truly personalised medicine on the basis of 'virtual patient' models, based on a deep –omics analysis of the patient. He has received several awards such as the Ján Jessenius SAS Medal of Honour for outstanding achievements in medical sciences of the Slovak Academy of Sciences (2003) and the Karl Heinz Beckurts Award for achievements in genome research (2004).
Hans Lehrach has co-founded several biotechnology companies such as Sequana Therapeutics, GPC Biotech, Scienion, Prot@gen, PSF Biotech, Atlas Biolabs, Alacris Theranostics, as well as the Dahlem Centre for Genome Research and Medical Systems Biology gGmbH (DCGMS).
Selected Publication (2012)

Zazzu V, Regierer B, Sudbrak R, Lehrach H. 2012. IT Future of Medicine: from molecular analysis to clinical diagnosis and improved treatment. N Biotechnol. 2012 Nov 16. doi:pii: S1871-6784(12)00859-X. 10.1016/j.nbt.2012.11.002. [Epub ahead of print]
Kamburov A, Stelzl U, Lehrach H, Herwig R. 2012. The ConsensusPathDB interaction database: 2013 update. Nucleic Acids Res. 2013 Jan 1;41(D1):D793-800. doi: 10.1093/nar/gks1055. Epub 2012 Nov 11.
1000 Genomes Project Consortium, Abecasis GR, Auton A, Brooks LD, DePristo MA, Durbin RM, Handsaker RE, Kang HM, Marth GT, McVean GA. 2012. An integrated map of genetic variation from 1,092 human genomes. Nature. 2012 Nov 1;491(7422):56-65. doi: 10.1038/nature11632.
Börno ST, Fischer A, Kerick M, Fälth M, Laible M, Brase JC, Kuner R, Dahl A, Grimm C, Sayanjali B, Isau M, Röhr C, Wunderlich A, Timmermann B, Claus R, Plass C, Graefen M, Simon R, Demichelis F, Rubin MA, Sauter G, Schlomm T, Sültmann H, Lehrach H, Schweiger MR. 2012. Genome-wide DNA Methylation Events in TMPRSS2-ERG Fusion-Negative Prostate Cancers Implicate an EZH2-Dependent Mechanism with miR-26a Hypermethylation. Cancer Discov. 2012 Nov;2(11):1024-1035. Epub 2012 Aug 28.
Jones DT, Jäger N, Kool M, Zichner T, Hutter B, Sultan M, Cho YJ, Pugh TJ, Hovestadt V, Stütz AM, Rausch T, Warnatz HJ, Ryzhova M, Bender S, Sturm D, Pleier S, Cin H, Pfaff E, Sieber L, Wittmann A, Remke M, Witt H, Hutter S, Tzaridis T, Weischenfeldt J, Raeder B, Avci M, Amstislavskiy V, Zapatka M, Weber UD, Wang Q, Lasitschka B, Bartholomae CC, Schmidt M, von Kalle C, Ast V, Lawerenz C, Eils J, Kabbe R, Benes V, van Sluis P, Koster J, Volckmann R, Shih D, Betts MJ, Russell RB, Coco S, Tonini GP, Schüller U, Hans V, Graf N, Kim YJ, Monoranu C, Roggendorf W, Unterberg A, Herold-Mende C, Milde T, Kulozik AE, von Deimling A, Witt O, Maass E, Rössler J, Ebinger M, Schuhmann MU, Frühwald MC, Hasselblatt M, Jabado N, Rutkowski S, von Bueren AO, Williamson D, Clifford SC, McCabe MG, Collins VP, Wolf S, Wiemann S, Lehrach H, Brors B, Scheurlen W, Felsberg J, Reifenberger G, Northcott PA, Taylor MD, Meyerson M, Pomeroy SL, Yaspo ML, Korbel JO, Korshunov A, Eils R, Pfister SM, Lichter P. 2012. Dissecting the genomic complexity underlying medulloblastoma. Nature. 2012 Aug 2;488(7409):100-5. doi: 10.1038/nature11284.
Sultan M, Dökel S, Amstislavskiy V, Wuttig D, Sültmann H, Lehrach H, Yaspo ML. 2012. A simple strand-specific RNA-Seq library preparation protocol combining the Illumina TruSeq RNA and the dUTP methods. Biochem Biophys Res Commun. 2012 Jun 15;422(4):643-6. doi: 10.1016/j.bbrc.2012.05.043. Epub 2012 May 15.
Dreher F, Kreitler T, Hardt C, Kamburov A, Yildirimman R, Schellander K, Lehrach H, Lange BM, Herwig R. 2012. DIPSBC--data integration platform for systems biology collaborations. BMC Bioinformatics. 2012 May 8;13:85. doi: 10.1186/1471-2105-13-85.
Clarke L, Zheng-Bradley X, Smith R, Kulesha E, Xiao C, Toneva I, Vaughan B, Preuss D, Leinonen R, Shumway M, Sherry S, Flicek P; 1000 Genomes Project Consortium. 2012. The 1000 Genomes Project: data management and community access. Nat Methods. 2012 Apr 27;9(5):459-62. doi: 10.1038/nmeth.1974.
Adams D, Altucci L, Antonarakis SE, Ballesteros J, Beck S, Bird A, Bock C, Boehm B, Campo E, Caricasole A, Dahl F, Dermitzakis ET, Enver T, Esteller M, Estivill X, Ferguson-Smith A, Fitzgibbon J, Flicek P, Giehl C, Graf T, Grosveld F, Guigo R, Gut I, Helin K, Jarvius J, Küppers R, Lehrach H, Lengauer T, Lernmark Å, Leslie D, Loeffler M, Macintyre E, Mai A, Martens JH, Minucci S, Ouwehand WH, Pelicci PG, Pendeville H, Porse B, Rakyan V, Reik W, Schrappe M, Schübeler D, Seifert M, Siebert R, Simmons D, Soranzo N, Spicuglia S, Stratton M, Stunnenberg HG, Tanay A, Torrents D, Valencia A, Vellenga E, Vingron M, Walter J, Willcocks S. 2012. BLUEPRINT to decode the epigenetic signature written in blood. Nat Biotechnol. 2012 Mar 7;30(3):224-6. doi: 10.1038/nbt.2153.
Eberl M, Klingler S, Mangelberger D, Loipetzberger A, Damhofer H, Zoidl K, Schnidar H, Hache H, Bauer HC, Solca F, Hauser-Kronberger C, Ermilov AN, Verhaegen ME, Bichakjian CK, Dlugosz AA, Nietfeld W, Sibilia M, Lehrach H, Wierling C, Aberger F. 2012. Hedgehog-EGFR cooperation response genes determine the oncogenic phenotype of basal cell carcinoma and tumour-initiating pancreatic cancer cells. EMBO Mol Med. 2012 Mar;4(3):218-33. doi: 10.1002/emmm.201100201. Epub 2012 Feb 1.
Wierling C, Kühn A, Hache H, Daskalaki A, Maschke-Dutz E, Peycheva S, Li J, Herwig R, Lehrach H. 2012. Prediction in the face of uncertainty: a Monte Carlo-based approach for systems biology of cancer treatment. Mutat Res. 2012 Aug 15;746(2):163-70. doi: 10.1016/j.mrgentox.2012.01.005. Epub 2012 Jan 23.
Haupt A, Joberty G, Bantscheff M, Fröhlich H, Stehr H, Schweiger MR, Fischer A, Kerick M, Boerno ST, Dahl A, Lappe M, Lehrach H, Gonzalez C, Drewes G, Lange BM. 2012. Hsp90 inhibition differentially destabilises MAP kinase and TGF-beta signalling components in cancer cells revealed by kinase-targeted chemoproteomics. BMC Cancer. 2012 Jan 25;12:38. doi: 10.1186/1471-2407-12-38.